A Conversation with Kat Eng, Mixed Khmer Artist and Organizer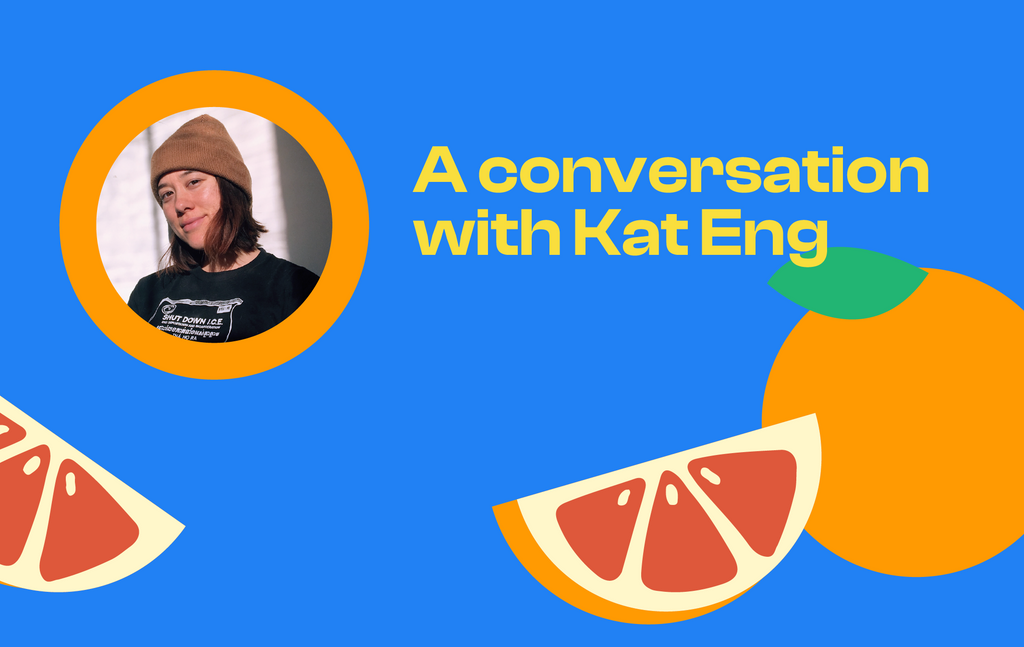 We're so excited that we got to connect with Kat Eng, a mixed Khmer illustrator, filmmaker, carpenter, puppeteer, and organizer. Across mediums, their dreamlike work explores loss, belonging, and relationships with land. 
The Abolish (r)ICE shirt is one of their ongoing projects to support Southeast Asian community members fighting deportation. 100% of the proceeds from the sales go to help with legal fees, translation needs, commissary accounts, and re-entry funds. Follow them to stay updated with the next print run at @k4t3ng!
Cut Fruit Collective: Tell us about your art!
Kat: I'm an illustrator, filmmaker, carpenter, puppeteer, and much of my work is rooted in community organizing. 
I often use artmaking as a way to digest current events/the endless cycles of bad news. Sometimes it feels like the only tool that is empowering in the face of the overwhelming violence of this world. For example, when striking garment workers were facing brutal repression in Cambodia some years back, I tried doing things like posting hashtags, painting a banner, and gathering in front of offices of power, but they simply closed the curtains and ignored us. I decided to try something different, and set up a sewing machine outside of the H&M in Times Square and sat in a solo solidarity protest that ended up getting international attention.
I see art as a way to offer unexpected experiences, in hopes that someone may feel something that changes the way they see things, which may, in some small way, change the world.
Cut Fruit Collective: Could you tell us more about your Three Ladies shirt - what inspired the design? How did you choose anti-deportation efforts as your cause? What have been the things you are most proud of for this fundraiser?
Kat: I drew this design a few years ago as ICE ramped up attacks on Southeast Asian refugees. At the time, there wasn't as much public awareness about how much violence our community was facing from these institutions. I had a lot of help from folks in the community to translate "Free Them All" in Hmong, Khmer, Lao, and Vietnamese, and we added Burmese in 2021. I have always appreciated the simple, bold graphics that decorate everyday bags of rice, and it just felt natural to reimagine the iconic Three Ladies as freedom fighters for the SEA diaspora.
The first print run was for folks at The Fang Collective who wore the shirts while blockading ICE facilities in Massachusetts (and succeeded in getting those federal contracts canceled). Since then, I have shared this design to support work at Release MN 8, VietUnity, the Black Immigrant Collective, Asian Prisoner Support Committee, and other people fighting deportation all across the country. 
I now partner with a local collective, Eagle Screenprint, to do limited edition runs and send the proceeds directly to deportees in Cambodia. It's important for us all to remember that the fight isn't over when removal orders are signed, planes take off and names leave the headlines. We have to continue to care for our community members that have been ripped from their homes and families.
The next batch is coming up in April, and you can sign up to get the updates at www.kateng.co/abolishice!
Cut Fruit Collective: Can you share a bit about your artistic process?
Kat: I am somewhat of a perfectionist. I spend a lot of time stewing (read: procrastinating) and have a hard time starting things, so I often try to kickstart projects by tracing, collaging, or working with found objects. 
While I like sketching ideas out on paper before bringing them into Illustrator or Procreate, I have really started to appreciate working digitally. It has allowed me to have the freedom to be experimental and try new things– I always have a ton of layers with different versions to compare and contrast at some point in the process.
 I enjoy combing through chaos, finding the pieces that fit, and putting the bigger picture together, whether I'm editing documentary film work or building paper mache puppets. 
Recently, I've been returning to automatic drawing (a fancy way to say doodling) as a way to chart my subconscious world, practice focus, and be creative for the sake of creating.
Cut Fruit Collective: Where did you grow up, and what communities and experiences shaped your identity as an artist? How did they shape you?
Kat: My dad came to Minneapolis in 1979 as a refugee from the genocide in Cambodia, where he lost his entire family. My mother has never lived outside of Minnesota. I grew up in a small Driftless river valley on Dakota land. A lot of my neighbors were hippies working on prairie restoration, and instead of corn and soy, the fields around my home grew millions of wildflowers. For the first part of my life, the only Asian people I knew were my sister and my dad. 
I decided to travel and seek out community and a sense of belonging. I eventually made it to my father's hometown of Battambang where I worked at a small arts school. I struggled with not being able to speak the language and felt disconnected from both the distant family and new friends that I found, as well as the rather problematic expat community that were exploiting artists there. I think that experience cemented for me that art (and the communities that make it) must have an analysis of power.
Back in the US, I learned a lot from working with many different kinds of people on grassroots campaigns including Hurricane Sandy relief efforts in NYC, the battle against the Dakota Access Pipeline on Oceti Šakowiŋ lands, and the fights for housing and immigration justice in Minneapolis. I have found my place making illustrations, screenprinting shirts, painting banners, and producing short films.
Being more rooted in Minneapolis the last few years and through the pandemic has helped me reconnect with the underground arts community here. I've been really grateful for spaces like Monkeybear, a program that supports Black, Native, and POC artists to develop creative and technical skills in contemporary puppetry and community storytelling.
Cut Fruit Collective: What do you have in the works? Do you have any upcoming shows, sales or projects you'd like to promote?
Kat: I am in a period right now where I am focusing on building new skillsets. I decided this year that I'm going to learn how to animate, make stained glass, and practice basic jewelry metalworking. 
For a long time, I've been resistant to the idea of trying to make a living with my art, but honestly can't stand being exploited by employers anymore. I'm exploring the idea of doing limited runs of other designs with Eagle Screenprint, keep an eye out for updates on my insta, @k4t3ng! 
Oh, and I am joining the curatorial team of Puppet Cabaret, a program for emerging artists to create new, short, experimental, and weird puppet shows for all to enjoy with live music and waffles on demand. The next one will be sometime this summer 2022!
 Cut Fruit Collective:  What's your favorite fruit and do you have any cut fruit or fruit memories?
Kat: I've always been into sour fruits. Grapefruits were no. 1 for most of my childhood (a time when I did not know the majesty of pomelos). 
I also appreciate the versatility of mangoes.  My auntie in Cambodia introduced me to the concept of eating a piece of mango with rice and ត្រីងៀត (trey ngeat), a slightly sweet and salty dried fish, and my mind was blown. I think Southeast Asians are geniuses at flavor pairings.