A conversation with Mel Xu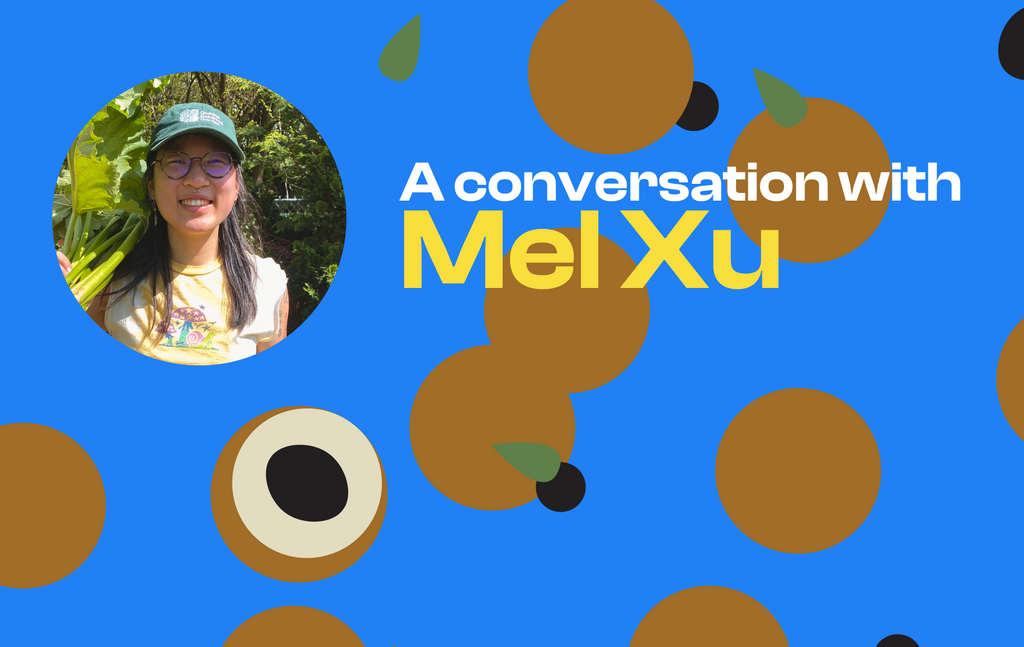 Mel Xu is a queer Chinese American artist from Flushing, NY. They love to make friends, fires, community, music, laughter, and art! They are deeply inspired by famous world builders Grace Lee Boggs, Hayao Miyazaki, Mother Earth, and especially mushrooms, the ultimate bridge between animals and plants, earth and aliens, life and death!
Follow Mel on Instagram.
Paulina, one of our contributing writers, recently interviewed Mel.
Tell us about your art!

My art practice is forever growing and changing! I love painting both digitally and on walls. I am intentional about making my art accessible to everyone, so putting it online or on the street is ideal! When selling at markets and online, I like having options, such as stickers, prints and originals, so that everyone can get something if they resonate with my work!
Like so many Asian Pacific Islander Americans I grew up with a shame about being Asian. I grew up asserting "I'm American," now realizing what I strived to be was white. But during the collective awakening to AAPI struggles in this country, in reconnecting with my family, learning our history, I feel a love growing for the Chinese part of myself. My art recently explores my cross cultural identity as both Chinese and American.

Where did you grow up, and what communities and experiences shaped your identity as an artist?

I stayed with my grandma in Flushing, Queens until age 5, while my parents were working 24/7. When my parents were able to save enough to get their own place, I moved out to Long Island with them. Since Chinese is their first language, we were always in Flushing, which is home to many Asian immigrant communities. I went to a Chinese school in Flushing on Saturdays, so I would stay with my grandma on weekends. But it was really hard for my parents because they were working all the time and they had kids. I definitely feel most at home and at peace in Queens than on Long Island. 
I loved growing up in Queens. My grandma grew vegetables in her backyard and she would share with all her neighbors. I didn't realize how radical and beautiful that was until now - sharing food you grow yourself. Now I'm working at the Queens Botanical Garden on their farm, where we grow food for the community. There's so much in place in Queens like that, that are by the people, for the people, like our community fridges and community gardens. I'm excited to live like my grandma and support my local community!
Can you share a bit about your artistic process?
Up until college, I would always craft and get excited just to make things. Though I'm grateful for the time and space to study art, after going to school for art, I became stuck in the critiquing part of creating. I was always thinking about how to make the perfect piece that other people approved of, which kind of stopped me from creating altogether. I now consciously minimize those thoughts and critique. I was creatively blocked and burnt out for a few years after graduating college, doing only commission work, making art for other peoples' visions, businesses, etc. Only recently in 2020 I began to truly create from my heart again. 
What got me going again was actually Inktober, an annual creative challenge folks practice on IG, where you're supposed to draw or make something every day for the entire month of inktober! It got me doodling and making for fun again, which I believe was a gateway to open my heart - like visual journaling!
Sustainability is a huge part of your creative business. Can you tell me your process for integrating sustainability into your art?
Yes! I have been reflecting a lot on making my art practice more sustainable, so I'm learning new ways to improve my impact on the Earth and people. I'm currently in the process of switching over to all compostable stickers! I also only use home-compostable packaging from Elevate Packaging. All the plastic sleeves are made of PLA "plastic" which is made of a combination of corn starch and sugar cane!
I have been making recycled paper from paper in my recycling bin and from the local library. I use this handmade paper for my compostable stationery, books, etc! I have a growing collection of compostable journals & stationery!
I want to steer away from using factory labor for all of my art. I used to use Print On Demand services, which I will never do again - it can begin to mimic big capitalist designer companies that charge way too much for their goods and pay workers way too little. I deeply enjoy making paper, books, stickers, printmaking, and painting for myself, so I would like to work from joy instead of contributing to worker exploitation abroad.
So it's all about being thoughtful and intentional about where materials come from, who's working on it, and being transparent about it all! I didn't start a business to hoard money! I started a business to be able to support myself so I can better help, and to be able to share my ideas and visions for a better world!
I love that you are always raising money for causes and you inspire me to do the same! Can you tell me more about how you incorporate mutual aid into your art practice?
Yes! Once I make money, it feels right in my heart to share it. And for example certain designs are inspired by Indigenous Water Protectors, so I send 100% of proceeds to their funds because it is art about their struggle. So for that, I'm donating that to the water protectors because they're the ones putting their lives on the line. So it feels right to give all proceeds to the cause.
I also funnel money to mutual aid funds for my black friends who need support. Even though everyone has their own struggle, it's extremely important to support black people in America because of how hard their lives are made by systemic racism, the generational trauma from slavery, the prison pipeline, etc. Knowing the history of black America, it only feels right to support as best as I can. I want my friends to feel safe and at peace at home and in their life and work. 
Recently I organized a fundraiser for RAWA (The Revolutionary Association of the Women of Afghanistan)  in response to the response of all the organizations supporting Ukraine. Although all war is deadly and horrible, there is war happening all over the world - yet no one is talking about or organizing to support the refugees. Is it a coincidence that these are mostly places where black and brown people live? I decided to make a fundraiser for Afghanistan. I researched and found RAWA, the Revolutionary Association of the Women of Afghanistan. And I invited 19 creators of all mediums to participate by contributing a piece to sell to raise money for RAWA. We raised $486 in the end! I'd love to do this again in the future, but it takes a lot of time and energy, so I hope to work with other people next time!
What do you have in the works? Do you have any upcoming shows, sales or projects you'd like to promote?
I'll be doing my next market with the Hester Street Fair on Pier 17 for Pride! That'd on June 25. I just did one yesterday with Dave's Lesbian Bar and was surprised to sell out of a lot of stickers and prints, so I'll be making a lot more stickers! I'm excited to make more compostable ones! :) I'm also excited to be making more books with handmade recycled paper! And I'll be selling at markets more once I catch up on some commissions. You can follow my work on instagram @therevolutionarymushroom to get updates about what I'm doing! I like sharing as much as I can there!
What's your favorite fruit and do you have any cut fruit or fruit memories? 

It changes. My mom used to cut fruit every night before bed. I really love honeydew and Korean pear when they're good. Longan is one of my favorites too! We had watermelon, oranges and grapes a lot too. It's hard to say favorites cause I love a lot of fruit!