AAPI Mental Health: Self Care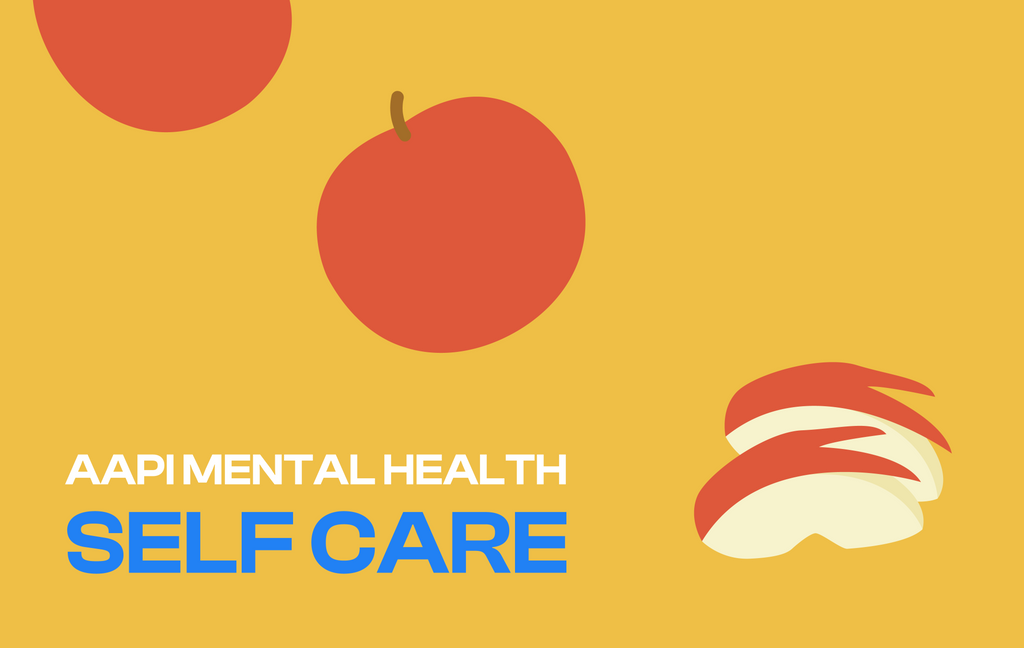 Taking care of ourselves and our communities as AAPI

As an org that creates art for AAPI community care, much of our work focuses on joy and celebration. But the reality is that we often don't feel so joyful and celebratory, especially in the wake of  community violence and oppression. It is painful to exist in a world that does not protect, honor, and love us and all oppressed peoples. As Dr. Martin Luther King Jr. said, "Injustice anywhere is a threat to justice everywhere. We are caught in an inescapable network of mutuality, tied in a single garment of destiny."

During difficult moments of collective trauma and grief, we truly believe that community care begins with self care. For many of us AAPI, we are used to the idea of taking care of others, sometimes at the expense of our own wellbeing. But it's important to remember: you are a part of your community, too. When you begin to process, grieve, and heal, the community heals too. Ultimately, by taking care of ourselves, we take care of each other.

Self care is the practice of maintaining a healthy relationship with yourself. When we engage in self care, we do things to nurture our physical, mental, and emotional wellbeing.  The term self care has been increasingly co-opted by brands to refer to luxury purchases and treatments. While we have nothing against a bath bomb or a sheet mask, self care doesn't mean buying expensive stuff. And despite its name, self care also doesn't have to be something you do alone! We see self care as a way to connect more deeply with ourselves, which in turn allows us to better show up for others and our community. 

For many AAPI, self care may feel "selfish," but there is nothing wrong with prioritizing your own well being. For Team CFC and contributors, self care can look like:
Cutting yourself some fruit :) 
Honoring our feelings and capacity

Saying "yes" to things that feel empowering and healing
Saying "no" to incoming requests that feel draining

Reaching out to others

Calling or meeting up with a loved one
Connecting with like-minded community online

Engaging in cultural rituals

Drinking tea from traditional vessels
Lighting Incense
Prayer
Cultural mindfulness practices

Cooking a comforting AAPI food item

And maybe sharing it with someone

Adding intentional structure

Scheduling workout classes in advance
Meal prepping 

Napping
Participating in mutual aid, giving or receiving 
Engaging in movement
Bodywork

Acupuncture
Massage
Guasha

Intentionally engaging with media + content:

Watching comforting movies, shows or anime
Listening to audiobooks
Playing video games
Unplugging from social media
It is important to note that part of self-care may include stepping away or disengaging with distressing media. Some studies show that repeated media exposure to mass violence events can fuel a cycle of distress and cause increased anxiety. You are not morally obligated to share or view violent and distressing media. You are not a "bad" or negligent community member when you prioritize your mental wellbeing. Silence does not always equal complicity. Sometimes, it simply means you are listening.
This is not to say that we should aim to be ignorant about current events, but sharing distressing content in the name of "raising awareness" is not always necessary. We can consider our own mental well being as well as our communities' when deciding to share or consume content that could be re-traumatizing or triggering.
Self Care is one of many tools

Self care is just one tool within our arsenal to manage our own wellbeing and in turn, our communities' well being. We want to make it clear that self care is not the solution to large problems and systems of oppression — we can't self care our way out of abusive situations or systemic racism. And self care is not a one-size-fits all tool. What constitutes self care will be different from each person, depending on their individual wellness goals as well as life situation. For some, self care may look like a K-beauty sheet mask, for others it could look like signing up to receive  mutual aid.

Ultimately, the point of self care is to recognize that we all deserve to be treated with compassion, and that begins within. In a world that is hard, we can be caring and attentive to ourselves. By utilizing self care, we can feel more empowered and ready to address larger issues in our lives and communities.
Affirmations:
Tending to yourself might feel more uncomfortable than relaxing, especially when you're not used to putting yourself first. Know that this is okay.

Self-care is an act of rebellion, especially against a society that pushes hustle culture and emotional disconnect.

You can't pour from an empty cup. Taking the time to replenish your energy allows you to give back to those you love.

Isang bagsak. Our collective wellness and liberation depends on each of us. Trust that your community will continue to fight when you pause to rest.