The Origins of "Asian" Salad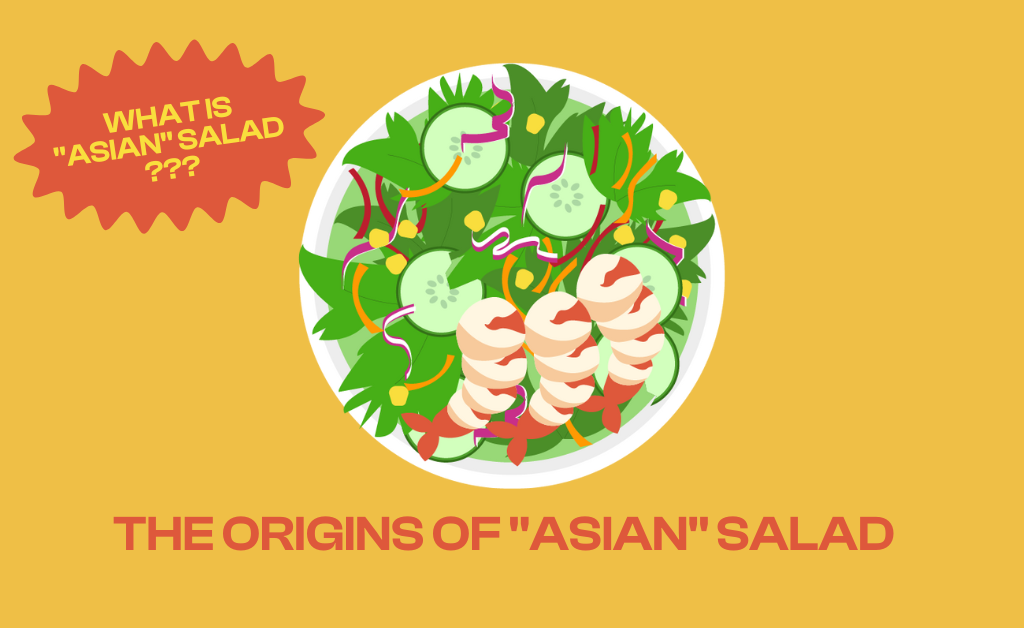 Asian salad is a catch-all term that has been used in Western media and restaurants to describe a variety of different salads of "Asian" origins. What makes a salad "Asian" is hotly debated though, with no similarities or any real historical basis for many "Asian salads." 
It's a term that has been criticized for its use in Western media and restaurants for its casual racism in how it exoticizes and generalizes a whole region and cultures to a monolith—a phenomenon which has been explored by outlets like The New York Times and Eater. Many critics have pointed out how many popular "Asian" salads in various restaurant and fast food menus are not made by Asian chefs or seem to have a basis in specific Asian cuisine. Some businesses such as Applebees, use extremely dated and offensive terminology to refer to their Asian salads, namely their "Oriental Chicken Salad."
The term "Asian salad" seems to be a spiritual successor to the popular "Chinese chicken salad" that took hold in the 1960's U.S. The "Chinese chicken salad"  was a best-selling menu item at Madame Wu's Garden in Santa Monica, a restaurant popular with Hollywood celebrities of its time (the restaurant operated from 1959-1998). The owner, Sylvia Cheng Wu, who was born in China in 1915 and moved to the States after WWII, created the salad at the request of one her regulars, Hollywood star Cary Grant. This salad was made up of chicken mixed with fresh vegetables that were topped with sesame oil, soy sauce, mustard, and other seasoning.
Since then, "Asian salad" has become the more popular term since the 80's as more Asian-fusion salads are made with the addition of other ingredients such as miso, cilantro, ginger, yuzu, peanut, and soy sauce from a variety of chefs, fast food chains, and restaurants.
Considering how broad the "Asian salad" is, we decided to ask our community their thoughts. An editorial note: when we asked folks questions, we wanted to keep things open-ended and didn't give them a definition of "Asian Salad." For some, their definition of "Asian Salad" referred to fusion cuisine, for others, it referred to salad-like dishes from various Asian cultures. The following answers reflect the diversity of definitions.
What really makes a salad "Asian?"
"A mixture that includes 'Asian ingredients' like wonton chips in the Chinese chicken salad or kamaboko and Somen noodles in the Somen salad."
—Ren Markle, @renmaicha
"What makes a salad 'Asian' is all in the dressing. The dressing needs to have components that originate from Asia that ties the dish back to its roots. The herbs that are used, the techniques that go into prepping the greens, and even the way the dish is served or garnished are all key to making an authentic asian salad."
—Jonathan Nguyen, @jon_nguyen1
"Sesame and ginger—but really anything that conjures the Asian imaginary. Add things that can be considered exotic to the otherwise bland American diet. Sesame, ginger, soy sauce, gochujang, tofu, and somehow also red onions."
—Jackson Wright, @minjoona.music
"Honestly I feel like any type of vegetable that's pickled makes it Asian. Like you can throw kimchi in it and it's tasty."
—Cay Chang, @memeok444
What do you think about the "Asian salad"?
"Asian salads are interesting, mostly because the 'Asian salads' I had growing up often didn't fit what a salad is. One of the volunteers at my job made 'Strawberry Salad' which was a pretzel crust with a cream cheese cool whip topping and a strawberry jello layer, it didn't resemble a salad at all but it's something I saw often growing up [in Hawai'i]."
—Ren Markle, @renmaicha
"I think Asian salads are delicious! They're a good way to get your essential nutrients in and cool off during the hot summer months."
—Jonathan Nguyen, @jon_nguyen1
"I love Asian salad dishes but there's this other category of "Asian Salad" which refers to dishes that are more like Fusion dishes, that are usually not invented by Asian people, and I think things like a "Chinese Chicken Mandarin Salad" or California Pizza Kitchen's "Thai Crunch Salad" falls into that category. I don't find it offensive (because food is just food at the end of the day), but it is kind of funny to me that just because it uses a single ingredient that's associated with a specific Asian culture, it becomes 'Chinese' or 'Thai'...To me, 'Asian salad' feels like if I made a salad that used olive oil and then concluded that the salad I made is 'Italian salad,' even if no other part of the salad was relevant to Italian cuisine."
—Maya Kulkarni, @maayaa.co
"The Asian salad is just one of those absurd inventions that I feel has gone from something with culturally-specific roots—either in traditional salad forms or salads that changed as a result of migration—to a kind of brand: you know exactly what you're getting when you order an 'Asian salad', despite those two words having a world of meaning in-and-of themselves."
—Jackson Wright, @minjoona.music
"Lazy writing for a name. It definitely feels like a white person came up with it and put random things in it and was like here is an Asian salad. Mainly because Asian salads are served in white restaurants but when I go to Asian restaurants and they have salads on the menu, they aren't called Asian salads."
—Cay Chang, @memeok444
Do you have a favorite "Asian" salad?
"Mine is either Chinese Chicken Salad or Somen Salad!"
—Ren Markle, @renmaicha
"A Vietnamese dish I grew up eating called Goi Ga that has a fish sauce based dressing with lime and chili that provides the perfect tang and umami flavor."
—Jonathan Nguyen, @jon_nguyen1
"In my early 20s, an 'Asian salad' I ate weekly was a DIY version of California Pizza Kitchen's 'Thai Crunch Salad.' I don't know if it was particularly Thai—the salad had Napa cabbage, red cabbage, carrots, green onions, cucumbers, cilantro, edamame, roasted peanuts, fried wontons skins, and a peanut dressing. Some Asian salads (that are from Asia) that I love include Green Moong Dal Sundal (a South Indian salad with sprouted mung beans, grated coconut, and curry leaves) and Larb (minced meat salad, national dish of Laos!)"
—Maya Kulkarni, @maayaa.co
"My favorite salad that is Asian [in origin] is the salad that comes in the dosirak at my hometown Korean restaurant, Choga in Kansas, that is pretty barebones—it's pretty much just arugula and lettuce with a soy sauce-vinegar-sugar dressing. I've recently started making it at home too and it's just really bouncy and tangy. It's the ideal palette cleanser in between the more savory elements of the dosirak. 
And my favorite 'Asian salad' is the one from McDonalds—I don't know if they still sell it but I used to get it when they still had Select Tenders. It was super sweet and had a lot of crunchy elements—sesame seeds, almonds, carrots and then also the grilled chicken that had the texture of tofu. Really great stuff."
—Jackson Wright, @minjoona.music
"The ramen noodle salad! I like this Asian salad because you top it with uncooked ramen all crunched up. I don't like peanuts so it's a great substitute for the crunch. I'm also a slut for cabbage."
—Cay Chang, @memeok444
Reference:
https://www.nytimes.com/2017/04/27/opinion/sunday/why-is-asian-salad-still-on-the-menu.html 
https://www.eater.com/2017/6/28/15885490/race-food-writing 
https://news.yahoo.com/stop-calling-asian-salad-104509920.html?guccounter=1&guce_referrer=aHR0cHM6Ly93d3cuZ29vZ2xlLmNvbS8&guce_referrer_sig=AQAAAAi11l-J6koFLEl1lCIqmdQo1GgOpZ98qF6jbHZEAPBCNli2D_xckoVkaAOpAQr-1OqKRXXWZELlnR9Prr2G1Yh6iGW234OqMxieeNPEz1iaaX0FtAb-Wcl3FtSiXjpobjpBknS0MNMeLxZp2rHmUKEjRVSZDmNWdHksuttsBF9C 
​​
https://www.saveur.com/culture/obituary-madame-wu-chinese-chicken-salad/