AAPI Mental Health Zine Fundraiser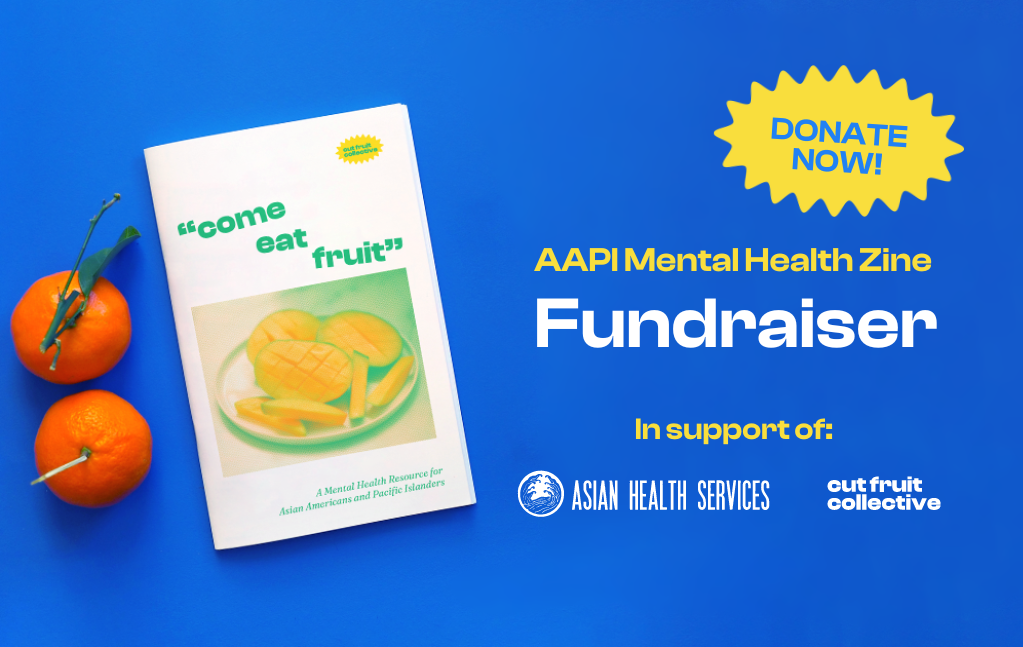 As a continuation of the important messages of AAPI Heritage Month and Mental Health Awareness month, Cut Fruit Collective has created "Come Eat Fruit," a zine and resource for our community. This 70+ page zine is filled with approachable articles, stories and more addressing topics that especially impact AAPI mental health.
Surveys show that more than a third of AAPI adults felt that their mental health has worsened since the pandemic started. Yet AAPI adults are less likely than other racial groups to seek out mental health care (3 times less likely than their white counterparts).
Funds raised by Friday, June 16 will go towards Cut Fruit Collective's AAPI mental health initiatives and a portion will be donated to Asian Health Services.
With enough contributions, we hope to be able to translate the zine from English to other AAPI languages and to print and distribute free copies to community resource centers such as Asian Health Services.
Asian Health Services, based in Oakland Chinatown, provides medical, dental, and behavioral health services to more than 50,000 patients in low-income and immigrant communities in 12 different Asian languages. As one of three nationally recognized anti-Asian hate action centers tapped to pilot and address the safety needs of patients and community, AHS is on the ground ensuring health is possible regardless of cultural, generational, and linguistic barriers. They are dedicated to ensuring community healing and safety and addressing racially-motivated violence through their Community Healing Unit.
Gifts
As a thank you, for donations for $15+ you will receive a digital zine and for donations of $50 or more, you will receive printed copies of the zine.* Donate here now!
$15 - $49 - Digital zine
$50 - Digital zine + 1x print zine
$100 - Digital zine + 2x print zine
$250 - Digital zine + 6x print zines
$500 - Digital zine + 15x print zines
$1,000 - Digital zine + 25x print zines
*Donate your print zine to the community: If you donate $100+ and would like to forego receiving the extra printed zine, check the box within the donation form to donate your extra print zines to the community.
Cut Fruit Collective is fiscally sponsored by Possibility Labs, a 501(c)(3) nonprofit organization (Tax ID# 85-3989363). Your contribution is tax-deductible to the extent allowed by law. This letter confirms that no goods or services were provided in exchange for your generous financial donation.
Access
We created this zine as a resource for our community. Donations cover the costs of our labor to create the zine as well as a donation to AHS, but we want everyone and anyone who needs the zine to be able to access it. Please send an email to
support@cutfruitcollective.org
if you'd like to receive a digital copy of the zine but the suggested donations pose a financial hardship to you.