Chuseok Mid Autumn Festival Story Sharing With Our Elders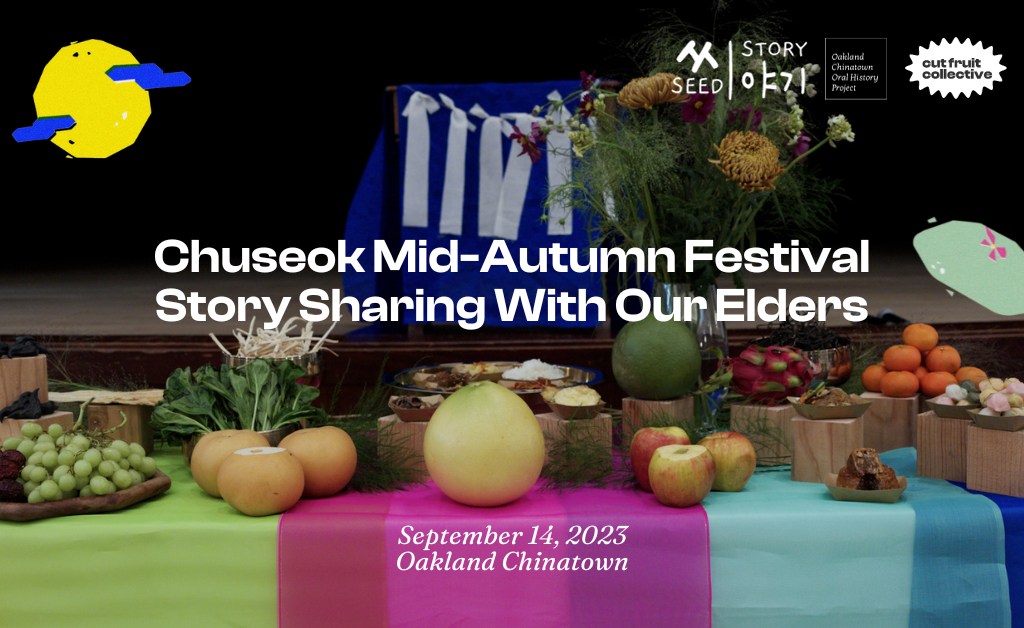 On September 14, 2023, we gathered Chinese and Korean elders together in Oakland Chinatown for a special cross cultural story sharing supper at Oakland Asian Cultural Center and then joined Lincoln Summer Nights at Lincoln Square Park for a public story sharing activity.
The Chuseok Mid-Autumn Festival Story Sharing event kicked off Cut Fruit Collective's "Stories from Our AAPI Elders: Connecting Generations and Communities" series, which gives a voice to Bay Area AAPI elders, documenting their oral histories into community art and activations.
Prior to the event, the Ssi Ya Gi team collaborated with the Korean Community Center of the East Bay to interview 2 Korean elders and the Oakland Chinatown Oral History Project collaborated with EBALDC Noble Tower Senior Housing to interview 2 Chinese elders about their memories of Chuseok and Mid-Autumn Festival. The elders shared their Chuseok and Mid-Autumn Festival experiences, weaving in heartwarming to heartbreaking details about their life journeys. 

The oral histories were then illustrated into these stunning trilingual zines by 5 different Korean and Chinese American artists available for purchase in our shop.
Korean elders and Chinese elders joined us at the supper where a few elders shared their memories about the harvest festivals and we debuted the oral history zines. The Ssi Ya Gi team also created a stunning Chuseok charye altar complete with traditional Korean and Chinese foods including dishes brought by the elders.
Then at Lincoln Summer Nights in Lincoln Square Park, a few elders shared heartfelt memories about Chuseok and Mid-Autumn Festival. We also loved seeing the community contribute memories and tributes to our charye altar and colorful ribbon display in exchange for some mooncakes, injeolmi, and songpyeon!


💗As you gather with loved ones, we hope you take a moment to listen, learn, and connect across generations, languages, and cultures!


======

Special thanks: California Humanities, The City of Oakland, Oakland Asian Cultural Center, Senior Assistance Foundation Eastbay

Catering by EM Deli and M&D Food
Songpyeon and injeolmi from Rice n Cake
Mooncakes from Ruby King Oakland and Annie's T Cakes
Photos by Stephen Woo
Video by Daniel Masaoka and Jamie Lai