Have You Eaten Yet? Oakland AAPI Small Food Business Map Challenge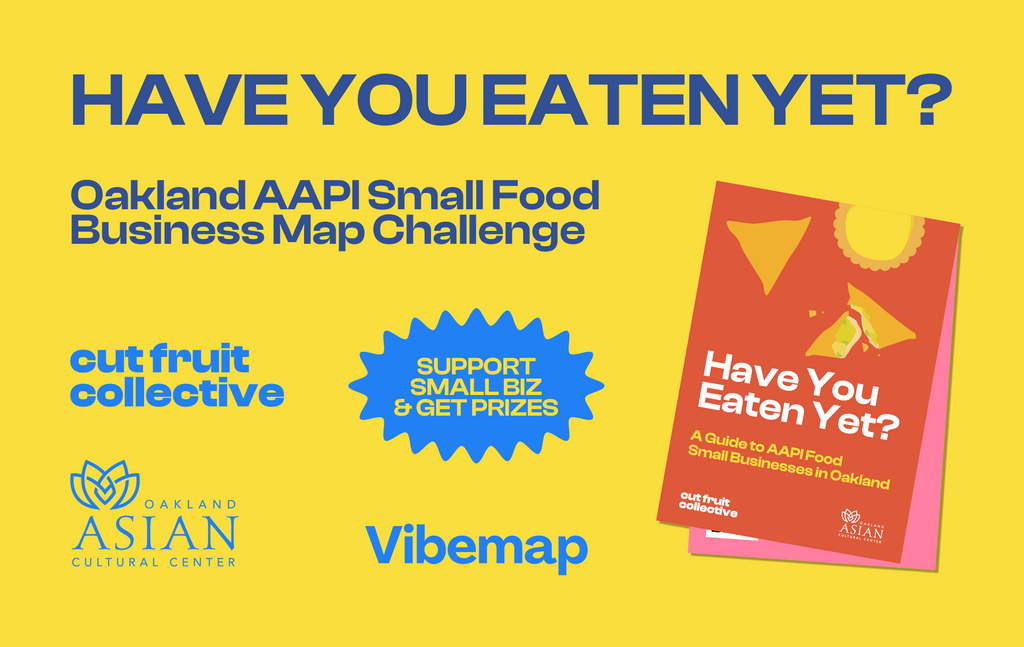 Oakland, have you eaten yet? We've partnered with Oakland Asian Cultural Center (OACC) and Vibemap to create an Oakland AAPI Small Food Business collectible map, and we're challenging you to try and support as many as you can going into AAPI Heritage Month through May. Fill your belly, support our AAPI small businesses, and redeem for commemorative prizes!
The challenge has been extended till June 4th!
HOW IT WORKS
Check out the map

Starting April 16 grab a special collectible map from OACC in Oakland Chinatown (388 9th St, Suite 290, Oakland, Wed-Sat 12p-5p) or at our

AAPI Community Festival on May 1

Or access a digital version of the map here

Spend $10+ at a business listed on the map and keep the receipt (digital receipts are okay too)

Participants can also

download Vibemap

and follow the challenge through the app

The prize is a selection of challenge-exclusive prints by 5 AAPI artists. 1 receipt gets you 1 print. Prizes can be redeemed at

OACC

Wed - Sat, 12 - 5 PM between April 16 - June 4. You can also swing by the QTAPI week event at OACC on June 4th to redeem prizes!
HOW TO REDEEM FOR PRIZES
Each person who can provide an eligible receipt for a business listed in the CFC map OR

Vibemap

's Have You Eaten Yet Challenge Badge is eligible for one postcard (minimum $10 purchase). 

Receipts can be physical or digital, but must show the business name and be time stamped sometime within 4/16~6/4.

Each person can receive up to 5 postcards (if they provide five different receipts).

It is preferred for 1 receipt to apply to 1 person.

Receipts can be applied to multiple individuals IF: it shows at least $10 spent per person AND if all members accompany the receipt holder for prize redemption (ex: a receipt shows 3 boba drinks. If all 3 people show up with the receipt to vouch for their drinks, this receipt can count as eligible towards all 3 people).
THE PRIZES
Collect five commemorative postcard prints (1 per receipt) designed by AAPI artists. The theme reflects the artists' favorite cultural celebrations. Meet the artists!
Rom! Rom! Rom!
Khmer/Cambodian New Year involves a 3-day celebration with each day serving specific purposes. One aspect of celebrating is with music and dancing. At any celebration, you will find a stage and a dancefloor (sometimes with a middle centerpiece, like a table of fruits and flowers!) where the community can engage in fun traditional social dancing to all the Khmer musical hits. 'Rom' means 'dance' in the Khmer language and that is expressed in my piece with the 3 joyous figures dancing in a circle, wearing a range of Khmer clothing and accessories, both traditional and modern.
Krystal M. Chuon is a Khmer/Krom artist, writer, and earring designer based in California. You can find her work on Instagram @themealeacollection. 
Just Peel the Feels 
I feel that there is a tender quiet love when sharing clementines or tangerines because of how one will peel and offer it to their loved one first. It is a small gesture that I've always appreciated. 
Christine Juon (@cjuon.jpg) is a Korean-American Illustrator based in Oakland, CA, who enjoys creating crisp, vibrant imagery that is topped with a whimsical softness. 
Ozoni Soup 
Half-melted, chewy mochi swimming with a simple veggie medley and steamy dashi broth. Every year, my family looks forward a hot bowl of my Aunt's Ozoni soup on New Years to bring good luck. When I think of the tastes and textures of this soup I think of being surrounded by family, fireworks with the kids, and a genuine feeling of hope for the year ahead.  
Kailah Ogawa is a Hawaiian Japanese illustrator and designer, currently based out of her hometown of Hilo, Hawai'i. Her work is a continuous exploration of color, form and textural subtleties as a way to distill themes of joy, curiosity, and nostalgia. Find her work on instagram: @kailahogawa.
Manila Mango
Manila Mangoes are a staple in Filipino cuisine and are present in gatherings, celebrations or Fiestas. I grew up with a mango tree in front of our house in Manila and have fond memories of family gatherings and celebrations with some version of the fruit present. The idea behind the piece is the balance / duality of the Manila Mango with a nod to the Yin-Yang. The Manila mango's sweet and sour states living in complementary harmony.
Lorenz Ortiz (@lorenzitro) is a good dude / designer who is made in Manila and is currently making in San Francisco.
Songkran
For the Thai New Year holiday Songkran, people bless others with good luck and pay reverence to their elders. Holy water and phuang malai (flower garlands), common in many Thai traditions, are used as offerings and forms of good luck. An important part of Songkran is Family Day, in which families return home to offer a phuang malai to their parents and elders as a show of respect.
Chanamon Ratanalert is a Thai-American illustrator and designer creating cute and colorful goods in San Francisco, CA. Follow her on Instagram @madebychanamon where she shares art, thoughts, and comics. 
Special thank you to our sponsors and partners!