LNY 2022 Oakland Chinatown Community Prosperity Box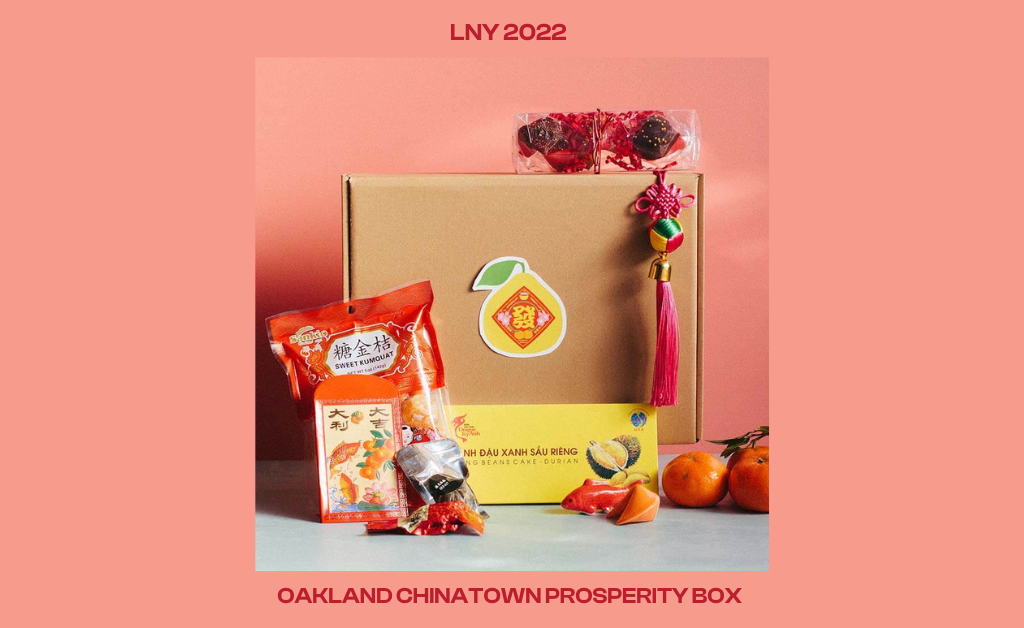 🍊 In support of Oakland Chinatown merchants during the Omicron wave, we created the Oakland Chinatown Community Prosperity Box which featured items from 8 Oakland Chinatown small businesses and orgs plus limited edition Cut Fruit Collective goodies for a festive Lunar New Year. We sold over 50 boxes, and required customers to pick up their purchase in Chinatown, thus encouraging people to visit Oakland Chinatown.
In addition to supporting the participating small businesses, contributions supported Cut Fruit Collective programs uplifting Bay Area AAPI communities like Oakland Chinatown. 
Featured items from 8 Oakland Chinatown small businesses and community orgs*:
1 box of durian flavored mung bean cakes from Cam Anh Deli

2 chopstick rests from Chanco Restaurant Supply

Sample tea from Golden Tea Shop

6 red envelopes from Hong Fei's paper goods

1 lucky charm lanyard from Kelly Smoke Shop

1 Asian Pacific New Year Celebration Booklist from Oakland Asian Cultural Center and the Oakland Asian Branch Library

3 chocolate dipped limited edition LNY fortune cookies from Oakland Fortune Cookie Factory

1 bag of candied sweets from Yuen Hop Noodle Company
Also included limited edition Cut Fruit Collective goodies:
1 pair of talisman banner

1 福 Fu good fortune talisman poster

1 postcard Year of the Tiger fortune reading by Chinese astrology practitioner Tiffany Lin