Oakland Chinatown Lantern Festival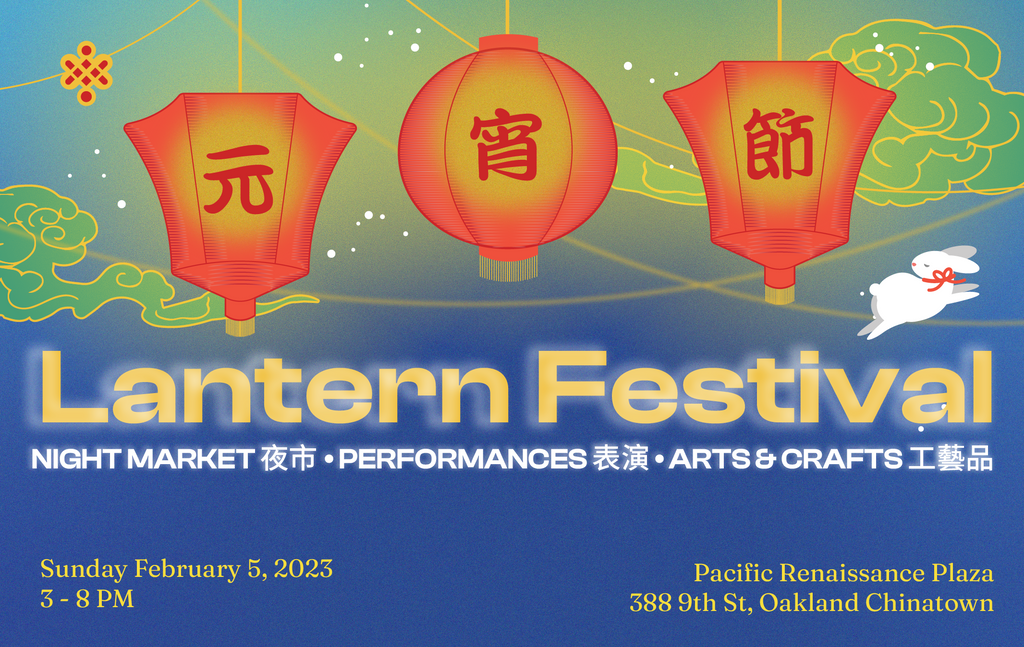 🏮It's Oakland Chinatown's time to shine in the Year of the Rabbit 🐰! Together let's support Chinatown by helping small businesses stay open in the evenings and reclaiming an atmosphere of safety for the community.

Join us in lighting the way forward for Oakland Chinatown's brighter future as we celebrate 元宵節 Yuan Xiao Jie or the Lantern Festival which is the final celebration of Lunar New Year festivities on the 15th day.
When: Sunday, February 5, 2023 3 - 8 PM
Where: Pacific Renaissance Plaza, 388 9th St, Oakland Chinatown
🎪AAPI Healers for Liberation will showcase makers, healers, and performers

🎨 @civicdesignstudio510 will light up the plaza with art displays and lanterns

🍊Dine and shop at Pacific Renaissance Plaza and stop by @cutfruitcollective's booth to win prizes 

🥢 Check out @oaklandbloom's booths featuring immigrant chefs from their incubator program
Activities curated by AAPI Healers for Liberation:
Intergenerational Storytelling Circle - facilitated by Sasanna Yee

1-hour Self-Defense Workshop - facilitated by Fei da Costa

Participatory Mural - facilitated by Twin Walls Mural Company

Reiki and Oracle Readings - facilitated by Danielle Hirokane

Oracle Readings and Coaching by Maria Javier-Rosales
Featured artists and makers: Moments Cooperative & Community Space, Teaphile, Felicia Liang, Slumptown Co., Caoculator, StormCloud Press, Menmin Made, Chanamon Shop, A Worm Friend, Shawna Chan, A&M Patisserie, Big Boi Mochi, That Hausa Vegan, Mother and Daughters, Prima's Corner, Blind Gurl Bakery
Performances by: Megan Lowe and Johnny Huy, Giovanna Lomanto, King Lotus Boy
Tunes provided by: YiuYiu 瑤瑤 and Lower Grand Radio 
Thank you to our sponsors:
                    
Interested in sponsoring the event? Reach out to hi@cutfruitcollective.org