A conversation with Peter Hessler of Pono Potions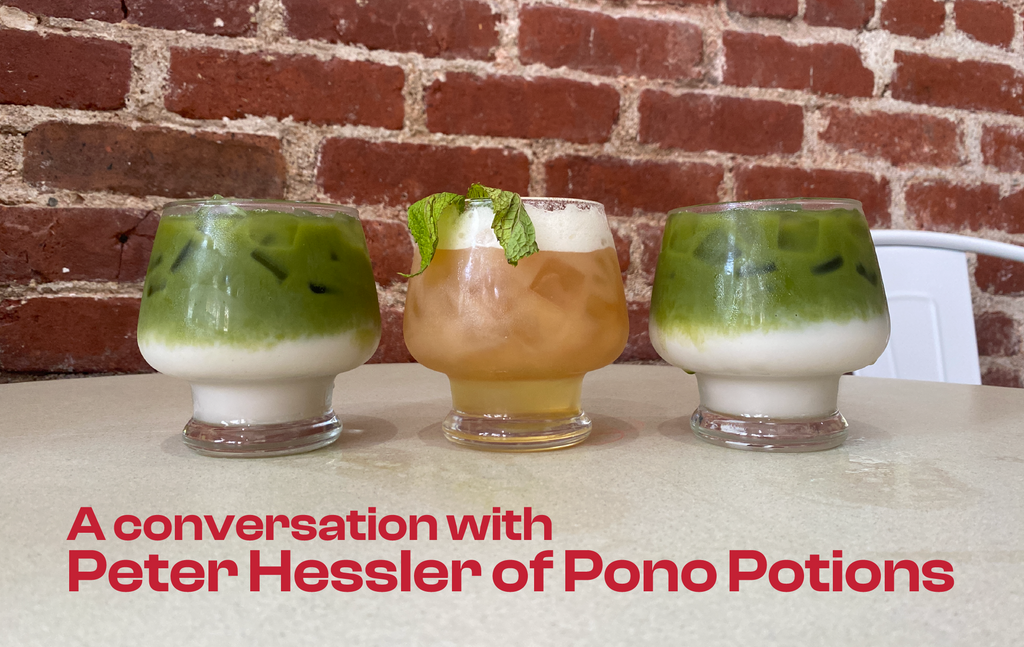 Peter Hessler, the mind behind Pono Potions and Pō'ai by Pono Potions, is an LGBTQ Native Hawaiian-Chinese business owner based in Honolulu, Hawai'i. Pono Potions is an artisanal syrup brand inspired by local flavors using locally sourced ingredients. Pō'ai by Pono Potions is a  cafe located in Honolulu's Chinatown that utilizes the Pono Potions syrups in their drinks. The cafe hosts a variety of merchandise from local artists ranging from jewelry and vintage aloha shirts to art prints and Hawaiian handicrafts.
You could win some syrups from Pono Potions and more by entering our QTAPI Joy donor raffle! Donate today!
Cut Fruit Collective contributing writer Ren recently interviewed Peter! Read on to learn more about his inspirations and more.
Ren: Tell us about yourself, your business, and why you're doing what you're doing!      
Peter Hessler: Awesome! My name is Peter Hessler and I started Pono Potions in 2019 when I was still a college student at University of Hawai'i. I had been working in the culinary industry - cooking, bartending, managing - for about 10 years already so I had a lot of experience in that field. I really wanted to start my own business, but really struggled to make that happen with limited funding and just how expensive everything is here in Hawai'i, but it was also really important for me to incorporate Hawaiian culture and values into my business.
I am Native Hawaiian as well, and moving back here from Portland, Oregon in 2016, I really wanted to - first of all, I felt so comfortable here and felt a sense of ease and understanding within the community already and just so different than the continental United States. I feel like people can be really supportive and embrace you as a Native Hawaiian too. It was really important for me to incorporate that into whatever business I started and also, just to be here in Hawai'i for my business. So I came up with the idea of Pono Potions after working as a bartender and created a lot of naturally flavored syrups and mixes for cocktails. And also, I have a love for espresso and local coffee shops and all the shops here in Hawai'i would be using one of two syrup brands that are mass produced in the united states and are shipped all over the world. They usually taste very artificial and very overly sweet, and also just don't represent Hawai'i as it is.
I definitely saw a niche in the market that I could create a product that would be really passionate about and would also represent Hawai'i. 
Ren: So you kind of mentioned it, but how would you describe your identity - Who would you say Peter is? 
Peter Hessler: It's always been a little bit complicated to understand for myself. I grew up in Portland, Oregon, which is very white. I was always seen as the most exotic person in my private Catholic school which is very funny considering i'm half white too. My dad is white, my mom is Hawaiian and Chinese, so I did always feel a little bit different than my classmates, but didn't really know why or understand it.
And I've always embraced being Hawaiian and we were always been proud of that. I didn't grasp what it really meant until I moved here in 2016. So, yeah! I always considered myself hapa or mixed but after moving here and understanding more about the community, learning more throughout school about Hawaiian language and history - that definitely became a more prominent part of my identity. 
Ren: How does your identity both as Native Hawaiian and being an LGBTQ+ person influence how you approach life and your business? 
Peter Hessler: I would say it is a huge factor in my life and business, being LGBTQ and also being a part of the AAPI community. With Pono Potions itself, it comes down to producing our products that are sustainable to our community. From the products we source to how we recycle our bottles sustainably. But also, giving back to the community whether it be monetarily, empowering our employees, or creating a safe space to educate others in our community with our space here at Pō'ai.  
Ren: Our audience is not super familiar with the Hawaiian language, what does Pō'ai mean?
Peter Hessler: Pō'ai actually means circle or a round shape in Hawaiian. So that is our brand for this space (the cafe) we're sitting in now. We wanted to create a different brand than Pono Potions because it's not just about our syrups here. It's about the larger community of Hawai'i and how everything has come full circle here on the islands, how we wanna see us growing as a brand. We empower other local businesses by selling their handmade crafts and art, as well as having a space for workshops and events. 
Ren:  Do you have an idea of what you want for the community around Pō'ai - future goals for what kind of community you want to build around here?
Peter Hessler: Absolutely! One of the exciting things is - you don't even know yet! - we just signed a lease on the space next door! 
Ren:  Oh my gosh, congratulations!  
Peter Hessler: Pō'ai will be expanding! Like I said, we did and do want to use our space as a community space for workshops, education, things like that, but our space is very limited. It is very small. So with this space next door, we will be able to double our seating capacity and really have a space for our community to gather for educational things like loom weaving and Hawaiian language, but also other fun things like cocktail making! So really just creating a comfortable space for people that identify how I do - or don't! Just create that space in Chinatown, in this really diverse community. 
Ren: Awesome! Switching gears a bit, Pono Potions is a syrup company, do you have a favorite flavor? 
Peter Hessler: My personal favorite right now is our Waialua honey ginger syrup. It's great in coffee, it's great in matcha, but I love making cocktails with it. Really simple, just the syrup, whisky, and lemon juice is super good and it's like the perfect nightcap! 
Ren:  I have one more question, what's your favorite fruit and do you have any cut fruit memories? 
Peter Hessler: Love that question! My favorite fruit - the one I eat most often are probably grapes. Love cold grapes in the summer. I also have really fond memories of watermelon. Growing up, my family had a large scale catering business! So I remember just cutting hundreds of watermelons. I'd eat watermelon all summer!