AAPI Mental Health Zine Resource List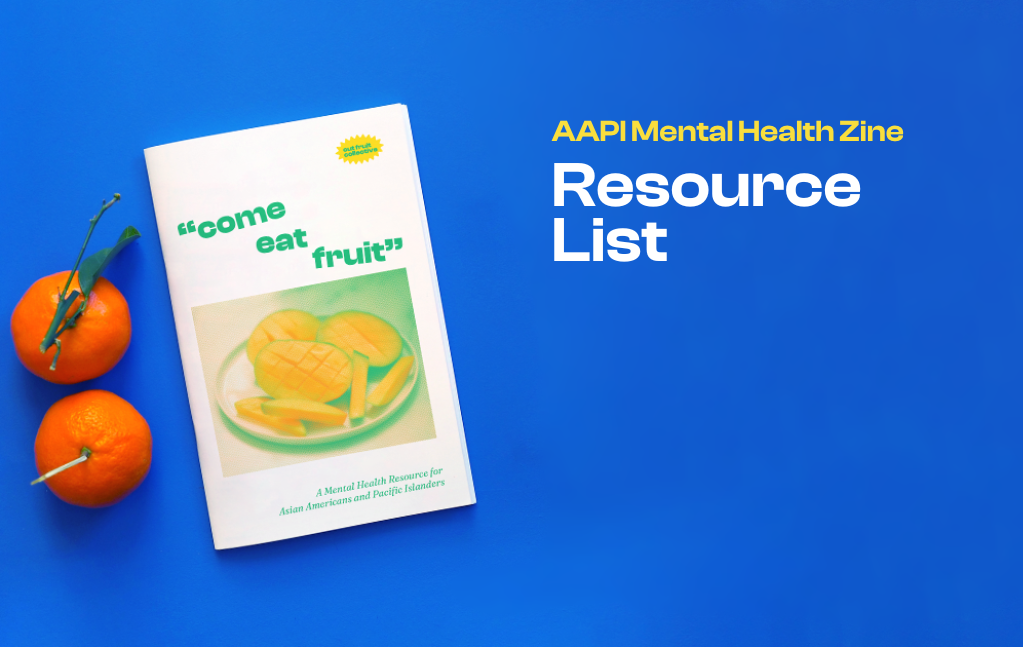 Thanks for checking out our living resource list to accompany printed versions of our AAPI Mental Health Zine, "come eat fruit". The zine and this resource list was created by Cut Fruit Collective and is for the AAPI community to be used as a resource for our community to reconnect, heal, and grow. 
Disclaimer: The zine and resource list was created to be an educational resource and a tool for self-reflection. It is not medical advice or therapy. We encourage you to continue reflecting on topics of AAPI mental health with friends, family, community members, or mental health professionals. Last updated June 26 2023.
Did you miss out on our fundraiser but still want to get a digital copy of our zine? Check back on this page for more details soon!
Resource List
Therapist Directories
Crisis Lines
Peer Support
Education
Local Orgs
Additional Resources
 Links within Zine Articles
What is Mental Health? (page 4) 
Boundaries in AAPI Families (page 10)
History of the Asian Tiger Mom (page 15)
Generational Trauma + Strength (page 19)
Self Care and Community Care (page 24)
Cultural Roots of Mindfulness (page 28)
Understanding Ableism and Disability (page 32)
Unpacking Food Relationships (page 32)
Food History to Understand AAPI Identity (page 46)
Where Are You Really From (page 51)
Understanding Settler Colonialism (page 32)
Collective Trauma and Healing (page 62)
Getting Mental Health Care (page 66)